Serving the Bay Area of California
We service the entire Bay Area and the greater Sacramento area. The list below is not comprehensive. If you don't see your city on the list below don't panic, simply give us a call. We can probably help you out.
Get A Quick Quote!
Our team will research the property and get back to you fast!
Service Area Map
HeatRx is proud to provide the Bay Area effective, affordable and timely bed bug heat treatments. We will provide a detailed written estimate with every bed bug inspection.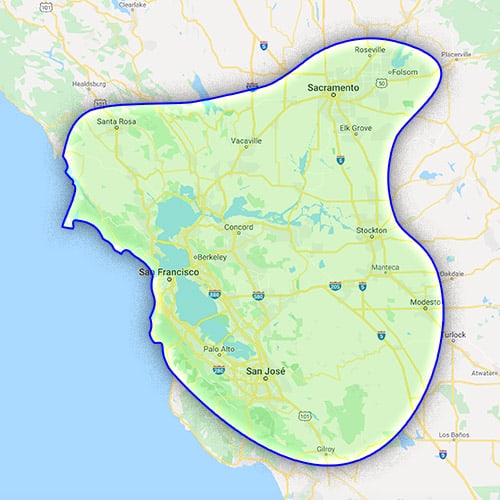 Now Providing Bed Bug Heat Treatments in Sacramento, California!
Over the years a number of people have asked us to travel to Sacramento to provide a bed bug heat treatment. In the past Sacramento was just a little too far to travel to; however, as our team has grown we are now in a position to provide Sacramento bed bug heat treatments.
100% Effective AND 100% Natural
Bed bugs cannot live for long in temperatures that exceed 120 degrees. HeatRx is proud to provide Northern California an effective, natural and chemical free way to get rid of bed bugs. Our prescription is HEAT! Bed bug heat treatments are safe, fast and effective.
Every property is different.
Our bed bug expert will create a plan customized to your situation.
Do you have questions about bed bug removal? Let's talk.
Our team can get you bed bug free quickly. You don't have to live with the bed bugs any more.
Invite us into your home for a FREE bed bug inspection. Take the first step in getting rid of the bed bugs once and for all.
How Can We Help?
We have the solution to your bed bug problem.
** We will reach out as quickly as possible to schedule a FREE inspection. By clicking above, you authorize HeatRx to call, text or email you. We appreciate the opportunity to earn your business!